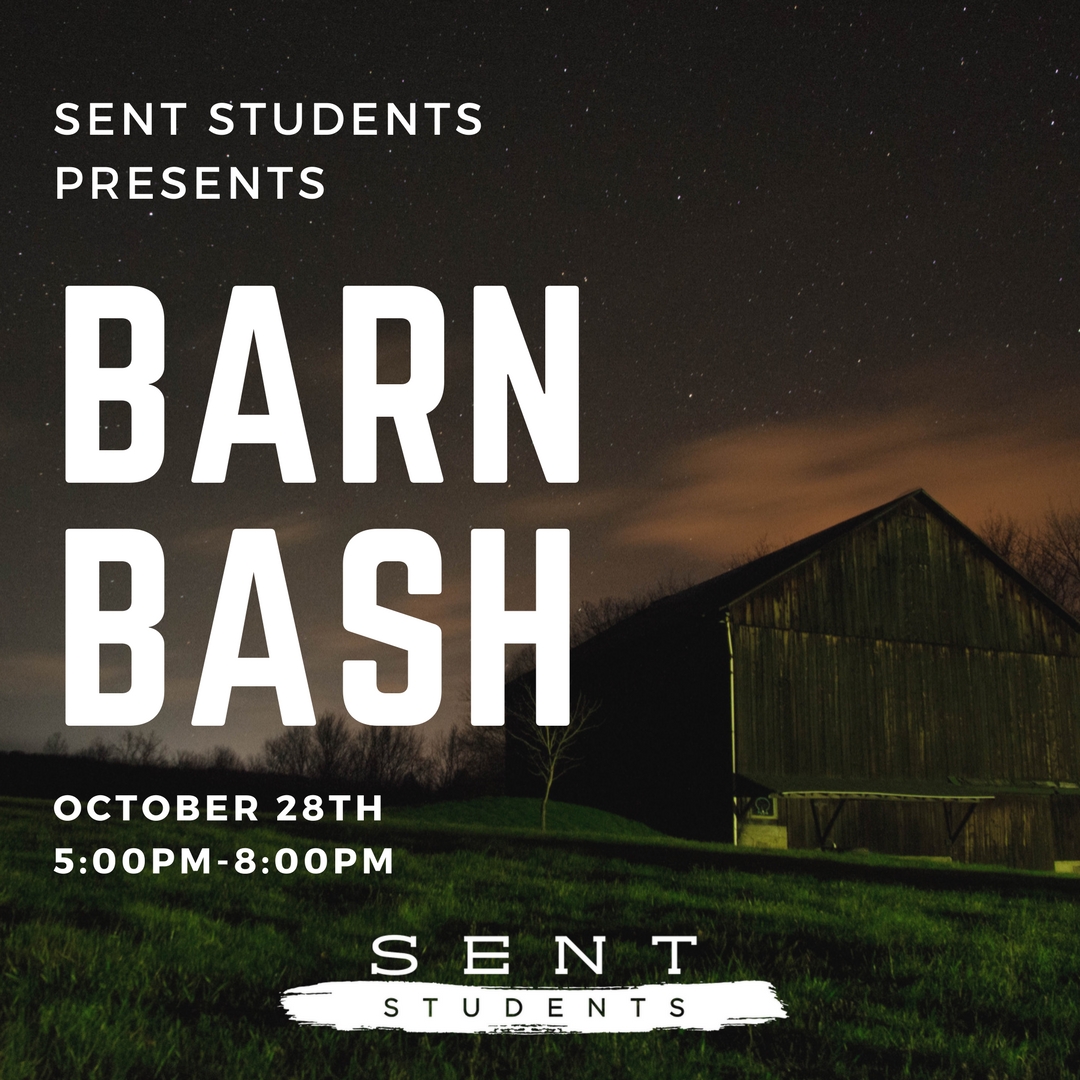 Sent Students - Barn Bash
October 28th, 2017
Barn Bash - October 28th | 5p-8p
All 6th-12th graders join us for fun, food and games at Barn Bash. We will be going to the Claassen's Home in Blue Ridge. Come dressed in an appropriate costume (or your best Jason or Rachael impression). Carpooling available.
Sign up for a snack, dessert, or drink to bring.
Please RSVP so we can plan how much food needed and to know who needs or wants to carpool! Address will be in the confirmation email.
Child Dedication
October 29th, 2017
Children are a gift from God and are precious to Him! Dedicating our children to the Lord is an important covenant we make before God. It is through child dedication that parents make this covenant and publicly proclaim their faith in Christ and their commitment to pass their faith on to their children.
Date Night with a Purpose (Nov 3)
November 3rd, 2017
To help invest in the marriages at Sent Church, we will provide free childcare on November 3rd from 6:30-9:00pm so couples can enjoy a night out! We will also provide engaging questions for couples to discuss over dinner – designed to enrich marriages and encourage intimacy. RSVP required.
Sent Second Saturday - November - Operation Christmas Child
November 11th, 2017
Submit One Registration Per Family by Selecting "Me (your name)" on the "Who's Attending" Page.
We are looking forward to seeing you on Saturday, Nov. 11 for our Sent Second Saturday Packing Party as we pack boxes for Operation Christmas Child!! The boxes and the contents of what goes in them will be sponsored (see below for details). We need you to help pack the boxes, write notes, and pray over the boxes and the children who will receive them. Our goal is to pack at least 200 boxes that day!! 
We need sponsors! You can sponsor OCC boxes for $20 each. This $20 will include all the items in the box and the $9 suggested shipping donation. You can drop off your donation (cash or check) in the lobby at church by Nov. 5, donate online at http://www.sentchurch.cc/giving/ or go to "Giving" on the Sent Church App.
Hope you can make plans and bring your whole family, invite your neighbors and friends to help pack and pray over the boxes on Nov. 11 at 9:00 a.m. Let's join together to work together and make a difference in the lives of children around the world!!
Please RSVP that you will help pack on November 11th.